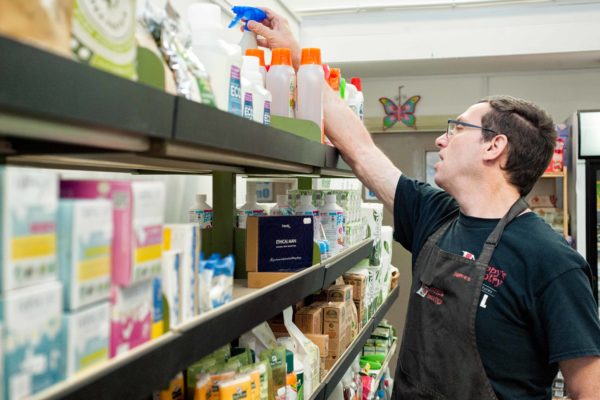 Visit Poppy's Pantry Today!
Tucked away in Melton, you will find one of Suffolk's Hidden Gems; Poppy's Pantry! Poppy's Pantry is a Wholefoods shop with a difference. Not only do they work hard to bring their customers the latest in Vegan, dietary specialist and plastic free products they also support adults with a learning disability to develop their skills and fulfil their potential.
*UPDATE REGARDING COVID-19*
Poppy's Pantry had to temporarily close their Click & Collect website after a large influx of orders as a result of lockdown. Down to three staff members and with unprecedented levels of demand, the team focused on restocking the shelves and ordering. Thankfully now things are back to normal, click & collect is back up and running! As of the 2nd November you can place orders as usual. In store Poppy's Pantry have put social distancing measures in place including floor signage, outside signage, cones for queueing and an only two customers in the shop at one time limit.
Poppy's sell vegetarian and vegan products, as well as gluten-free, wheat-free, organic and dairy-free products. Stocking healthy snacks, nuts, seeds and dried fruit, local fruit and vegetables and free-range eggs. There really is something for everyone!
Poppy's has a big focus on reducing single use plastic and helping their customers reduce their carbon footprint. They offer an extensive range of refills for household, bathroom and personal cleaning products. Bring in your empty bottles and they will refill them for you at a lower price than if you were to buy a new one. Better for your purse and better for the environment! Poppy's stock a vast array of plastic alternatives including Shampoo Bars, Bamboo Toothbrushes, Natural Cleaning Utensils and more!
In addition to the shop, every Tuesday they run a popup café in St Mary's Church Centre, Woodbridge. Selling hot and cold drinks, delicious handmade cakes and light lunches; the café is an ideal place to get together with your friends, a relaxed space to plug in your laptop and work with a coffee or to meet other people in your local community.